TOI,  3 Nov 2015
Madhureeta Anand: Deepika Padukone's 'My Choice' video limited to urban understanding
Amann Khuranaa,TNN
Kamla Bhasin and Eve Ensler's 'One Billion Rising' came together to launch the trailer of Madhureeta Anand's Kajarya at Jantar Mantar in Delhi. The film, which talks about various women issues including the female feticide, revolves around the lives of two women coming from different backgrounds. The film was premiered at the Dubai International Film Festival and has received international acclaim.
READ: Movie Kajarya selected for Montreal Film Festival
Prior to the trailer launch, several women fighting for women's rights addressed the audience. The event also saw children performing to songs and doing street plays on various issues revolving around women in India.
Speaking about the film, director Madhureeta Anand said, "I had read an interview in a newspaper wherein a woman was asked as to why they kill baby girls. She had said that women just act like a hangman and that they do not have any choice. This line really got me thinking and started writing the film. At one point, I thought that it was not really an issue to make a film out of. But in 2010, the sex ratio had fallen further and I decided that the film has to come out."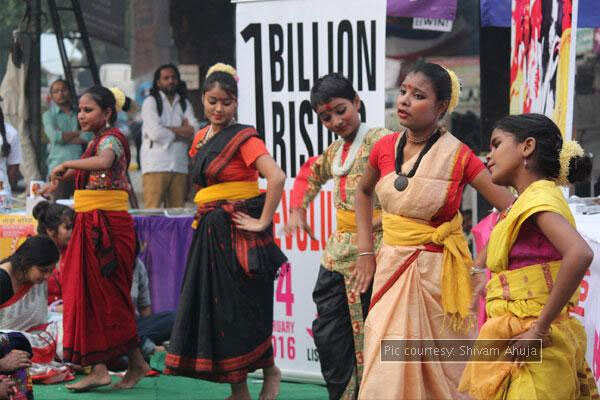 When asked if she was apprehensive about casting Ridhima Sood, given her glamorous image, the filmmaker said, "She didn't have any glamorous image. She hadn't done anything at that time. We had auditioned her but the audition hadn't gone well. Then, I was shown a clipping of Ridhima where she wasn't acting. At that time, I knew it was Meera (the reporter in the film). The main character has been played by Meenu Hoooda, who is a jat living in Rohtak, Haryana. The moment she walked in through the door, I was sure about casting her. So the whole casting process was very interesting."
Expressing her thoughts over Deepika Padukone's 'My Choice' video, Madhureeta said that it was good that Deepika has spoken about the issue but she feels that the video per se was limited to urban understanding.
Tagged: one billion rising campaign